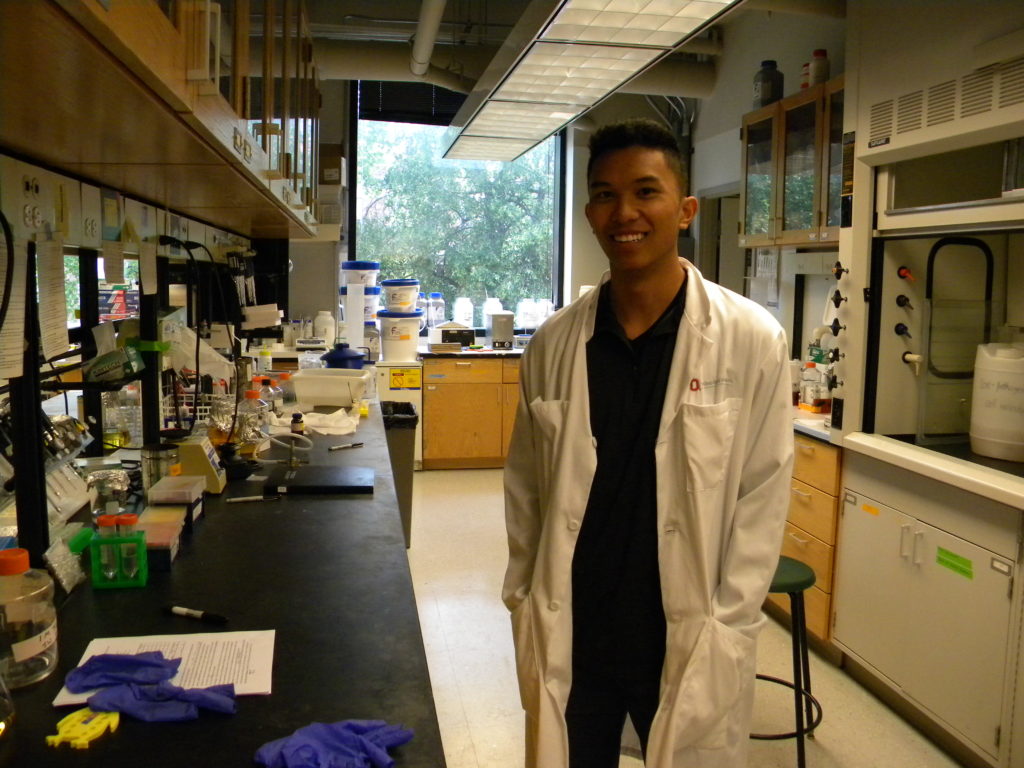 EDUCATION/EXPERIENCE
B.S. Biochemistry: The Ohio State University
Minor: Global Public Health
Expected Graduation Date: May 2018
Undergraduate Research Assistant (January 2016-Present)
RESEARCH INTERESTS
Retroviral Packaging and Assembly
Human Immunodeficiency Virus type-1 (HIV-1) is one of the most critical global health issues of today, infecting approximately 37 million people worldwide. Our work seeks to better understand how HIV-1 selectively packages its genomic RNA over the myriad of cellular and viral RNAs within the host cell's cytoplasm. By examining the interactions between Gag, a critical viral protein involved in virion packaging and assembly, and the HIV-1 5'UTR, we are able broaden our knowledge and understanding on the specific mechanism employed.
PUBLICATIONS
Rye-McCurdy, T.; Olson, E.D.; Liu, S.; Binkley, C.; Reyes, J.-P.; Thompson, B.R.; Flanagan, J.M.; Parent, L.J.; Musier-Forsyth, K. Functional Equivalence of Retroviral MA Domains in Facilitating Psi RNA Binding Specificity by Gag. Viruses 2016, 8, 256.
POSTERS
Positive and Negative Regulatory Elements in the HIV-1 5'UTR Control Specific Recognition by Gag, Denman Undergraduate Research Forum, 2017
http://hdl.handle.net/1811/80857
Positive and Negative Regulatory Elements in the HIV-1 5'UTR Control Specific Recognition by Gag, Fall Undergraduate Research Forum, 2016
http://hdl.handle.net/1811/80828
FUNDING
Undergraduate Education Summer Research Fellowship
Arts & Sciences Undergraduate Research Scholarship
SOLAR Research Grant
Gary Booth Scholarship Fund
Department of Chemistry and Biochemistry
NIH