---
Metal-Oxygen Batteries
---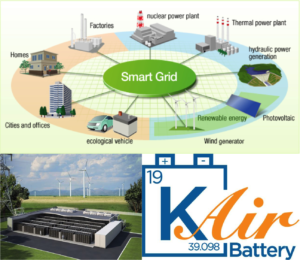 After years of intense research, lithium ion battery is reaching specific energy density of 250 Wh/kg. With increasing desires for superior electrochemical energy storage devices, metal-air batteries are the most dense electrochemical power sources and are anticipated to play an important role in electrification of transportation and grid energy storage. A major challenge in metal-air batteries, such as zinc-air and lithium-air batteries, is the overpotentials caused by the multi-electron chemical processes oxygen goes through in order to store and dispense energy. Since expensive catalysts are required to reduce these high overpotentials, these batteries are neither energy- nor cost-efficient.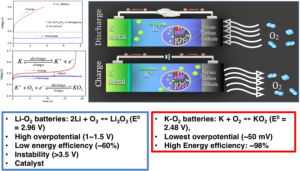 In 2013, Wu group invented K-O2 battery that is based on the reversible one-electron O2/KO2 redox couple, which eliminates the need for these electrocatalysts. This method has elegantly solved the oxygen reduction and evolution kinetics limit, and brings metal-air batteries closer to practical applications. And this invention has received broad attention in the battery community.
Our recent researches on K-O2/Na-O2 batteries involve the following aspects:
Investigate the anode and cathode side reactions in K-O2 cell
Explore suitable electrolytes and solvents for the metal-oxygen systems
Design anode material to replace K metal
Develop advanced membrane technique to prevent oxygen crossover in the cell
Probe the growth mechanism for potassium superoxide and its impact on the battery performance. Design cathode material to enhance the capacity and rate capability of K-O2 cell
Design stable Solid-Electrolyte Interface (SEI) for better battery cycle.
*This project is funded by National Science Foundation.
---
Selected Publications 
Neng Xiao, Xiaodi Ren, William D. McCulloch, Gerald Gourdin, and Yiying Wu. "Potassium Superoxide: A Unique Alternative for Metal–Air Batteries", Accounts of Chemical Research (2018). (DOI: 10.1021/acs.accounts.8b00332

)

William McCulloch, Neng Xiao, Gerald Gourdin Yiying Wu. "Alkali‐Oxygen Batteries Based on Reversible Superoxide Chemistry" Chemistry – A European Journal(2018). (DOI: 10.1002/chem.201802101

)

Neng Xiao; Gerald Gourdin; Yiying Wu. "Electrolyte Chemistry for Simultaneous Stabilization of Potassium Metal and Superoxide in K-O₂ Batteries", Angewandte Chemie International Edition (2018) (DOI: 10.1002/anie.201804115)
Neng Xiao, Ryan T. Rooney, Andrew A. Gewirth,and Yiying Wu, "The Long-Term Stability of KO2 in K-O2 Batteries", Angewandte Chemie International Edition (2017) ( )
Neng Xiao, William D. McCulloch, and Yiying Wu, "Reversible Dendrite-Free Potassium Plating and Stripping Electrochemistry for Potassium Secondary Batteries", J. Am. Chem. Soc. (DOI: 10.1021/jacs.7b04945)
Mingfu He, Kah Chun Lau, Xiaodi Ren, Neng Xiao, William D. McCulloch, Dr. Larry A. Curtiss, Yiying Wu, "Concentrated Electrolyte for the Sodium–Oxygen Battery: Solvation Structure and Improved Cycle Life", Angewandte Chemie International . (DOI:10.1002/ange.201608607)
Xiaodi Ren, Mingfu He, Neng Xiao, William D McCulloch, Yiying Wu, "Greatly Enhanced Anode Stability in K-Oxygen Batteries with an In-Situ Formed Solvent- and Oxygen-Impermeable Protection Layer",Advanced Energy Materials.(DOI:10.1002/aenm.201601080)
Neng Xiao

, 

Xiaodi Ren

, 

Mingfu He

, 

William D. McCulloch

, and 

Yiying Wu

, "

Probing Mechanisms for Inverse Correlation between Rate Performance and Capacity in K–O2 Batteries

", ACS Applied Materials & Interfaces. (DOI:10.1021/acsami.6b06280)
William D. McCulloch, Xiaodi Ren, Mingzhe Yu, Zhongjie Huang, and Yiying Wu, "A Potassium-Ion Oxygen Battery Based on a High Capacity Antimony Anode", ACS Applied Materials & Interfaces. 7, no. 47 (2015): 26158-26166. (DOI: 10.1021/acsami.5b08037)
X. Bi, X. Ren, Z. Huang, M Yu, E. Kreidler and Y. Wu, "Investigating dendrites and side reactions in sodium–oxygen batteries for improved cycle lives", 

Chem Comm

, 51, no. 36 (2015): 7665-7668. (DOI: 10.1039/C5CC00825E)
Ren, Xiaodi; Lau, Kah Chun; Yu, Mingzhe; Bi, Xuanxuan; Kreidler, Eric; Curtiss, Larry; Wu, Yiying, "Understanding side reactions in K-O2 batteries for improved cycle life", ACS Applied Materials & Interfaces, 6, no. 21 (2014): 19299-19307. 

(

DOI: 10.1021/am505351s

)

X. Ren, Y. Wu*, "

A low-overpotential potassium-oxygen battery based on potassium superoxide

", 

J. Am. Chem. Soc. 

2013

, 

135

 (8), pp 2923–2926

 (

DOI: 

10.1021/ja312059q

)
---
NATIONAL CLEAN ENERGY BUSINESS PLAN COMPETITION 2014
KAir Battery has identified a major need across the entire energy industry. The industry needs large-scale batteries that are both energy efficient and cost effective in order to further implement smart grid technology and renewable energy resources.
KAir Battery is developing potassium air batteries, a patented revolutionary battery that will change how the world stores and uses energy. These batteries are cost effective (half of the Energy Department's long term price point), 98 percent energy efficient and simple to manufacture. In addition, unlike competing products, KAir's batteries produce non-toxic byproducts at the end of their lifetime. KAir is a battery company KAiring about the future of energy and the environment.
KAir is the Grand Prize Winner of the Ohio State University Business Plan Competition and the recipient of the Energy Department's Clean Energy Prize from the Rice Business Plan Competition.
The future of energy is here. Do you KAir?
KAir Battery – An Electrical Inventory | Damian Beauchamp | TEDxOhioStateUniversity
---
Solar Batteries
---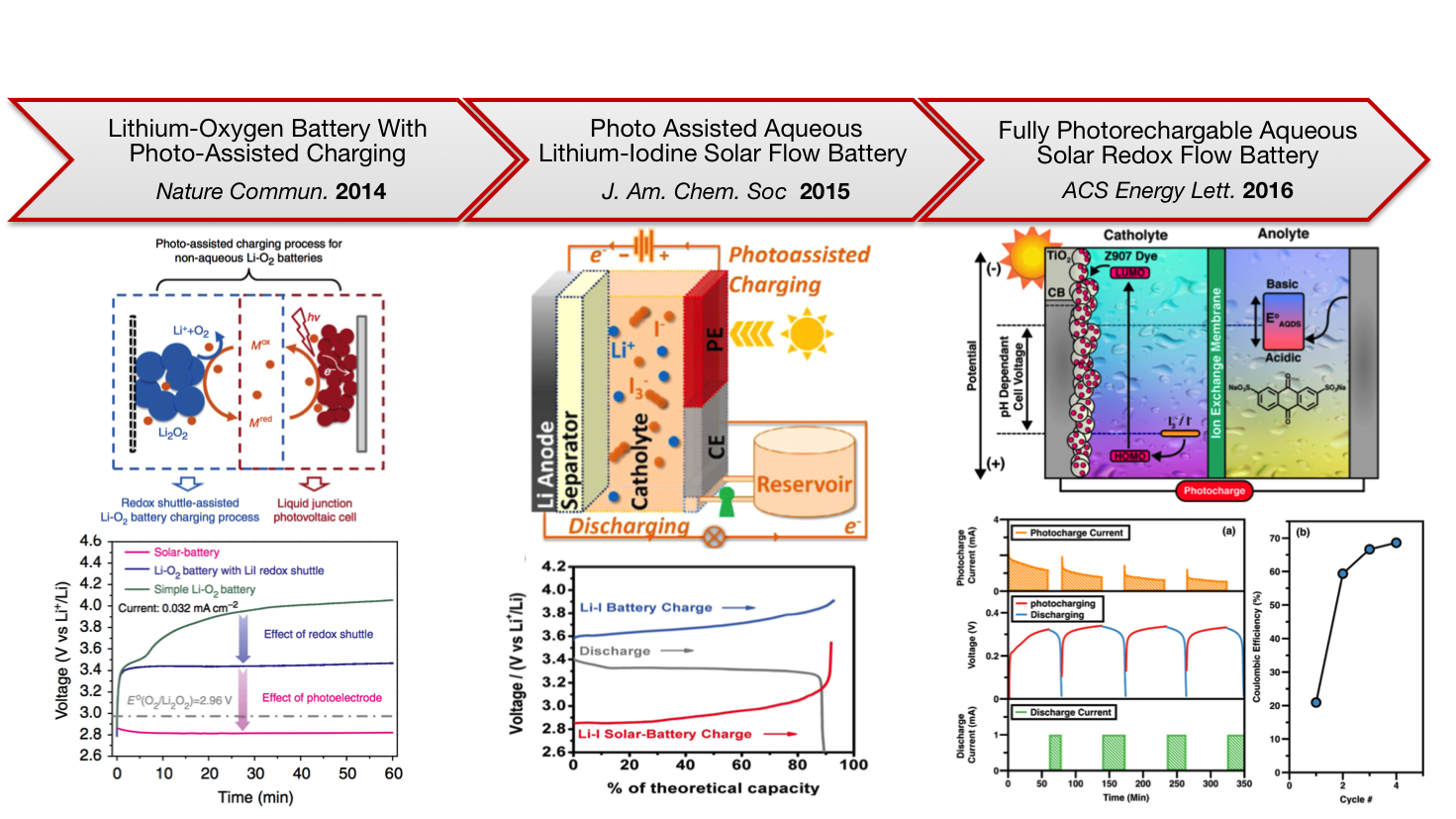 Wu group's recent breakthrough is in solar batteries based on the idea that photoelectrochemistry could be directly integrated into batteries because both fields use redox couples as the charge-transport shuttles. In 2014, his group demonstrated a solar oxygen battery that uses solar energy to assist the charging process of Li-O2 batteries. Later the concept was extended to solar flow batteries that use solar energy to assist the charging process of Li-iodine flow batteries. These pioneering works are useful for creating new technology that can directly store the solar energy, which solves the intermittent nature of sunshine. This work has been highlighted by Department of Energy, Columbus Dispatch (front-page story) and NBC4.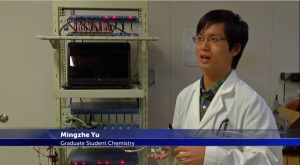 ---
Selected Publications
Yu, X. Ren, L. Ma, Y. Wu, "Integrating a Redox-Coupled Dye-Sensitized Photoelectrode into a Lithium-Oxygen Battery for Photo-Assisted Charging", Nature Communications 5:5111 (2014).
Yu, W. D. McCulloch, D. R. Beauchamp, Z. Huang, X. Ren, Y. Wu, "Aqueous Lithium-Iodine Solar Flow Battery for the Simultaneous Conversion and Storage of Solar Energy", J. Am. Chem. Soc., 2015, 137, pp8332-8335.
William D. McCulloch, Mingzhe Yu, and Yiying Wu, "pH-Tuning a Solar Redox Flow Battery for Integrated Energy Conversion and Storage", ACS Energy Letters. (DOI:10.1021/acsenergylett.6b00296)
---
Watch Yiying Wu and Mingzhe Yu explain the advantages of the solar air battery: