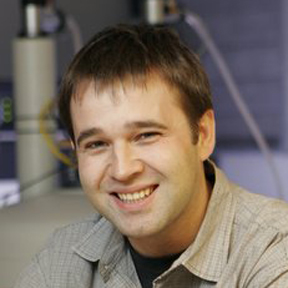 Professor of Chemistry & Biochemistry
Vice Chair for Research and Administration
222 CBEC Building · (614) 247 4284 · jaroniec.1@osu.edu
Christopher Jaroniec received his B.S. degree in Chemistry from Kent State University in 1997, and his Ph.D. in Physical Chemistry from the Massachusetts Institute of Technology in 2003, where he was a National Science Foundation Graduate Research Fellow with Robert Griffin and worked on the development of magic-angle spinning solid-state NMR methodology with applications to structural analysis of peptides and proteins. He was a Damon Runyon Cancer Research Foundation Postdoctoral Fellow with Ad Bax at the National Institutes of Health, where he worked on the characterization of the three-dimensional structure and conformational dynamics of the micelle-bound fusion domain of HIV-1 gp41 protein using solution-state NMR spectroscopy and the development of solution-state NMR methods for the determination of residual dipolar couplings in proteins and nucleic acids. Dr. Jaroniec joined The Ohio State University as an Assistant Professor in 2006, and was promoted to Associate Professor in 2011 and Professor in 2014. His research interests are in the development and applications of advanced NMR methods for the determination of structure, dynamics and interactions of supramolecular protein and protein-DNA assemblies, including prion amyloids and chromatin.
Curriculum Vitae (PDF) | Department Faculty Page
---
Education
2003      Ph.D. Physical Chemistry, Massachusetts Institute of Technology
1997       B.S. Chemistry, summa cum laude, Kent State University
Professional Experience
2017-      Vice Chair for Research and Administration, CBC Department, OSU
2014-      Professor of Chemistry & Biochemistry, OSU
2013-      Director, OSU CCIC Solid-State NMR Center
2013-      Evans Scholar, CBC Department, OSU
2011-14    Associate Professor of Chemistry & Biochemistry, OSU
2006-11   Assistant Professor of Chemistry & Biochemistry, OSU
2003-06 Damon Runyon Cancer Research Foundation Postdoctoral Fellow, NIDDK, NIH
Honors and Awards
2017      ACS Akron Section Award
2017      Varian Young Investigator Award in Magnetic Resonance
2016      Invited Visiting Professor, Sorbonne Universités/Université Pierre et Marie Curie
2015      American Association for the Advancement of Science Fellow
2015      ACS Physical Division Early-Career Award in Experimental Physical Chemistry
2014      ICMRBS Founders' Medal
2013      Evans Endowed Scholarship, CBC Department, OSU
2012      Camille Dreyfus Teacher-Scholar Award
2008     Eli Lilly Young Investigator Award in Analytical Chemistry
2008     National Science Foundation CAREER Award
2007     Alzheimer's Association New Investigator Research Grant Award
2007     Regitze R. Vold Memorial Lecture Prize, 5th Alpine Conference on Solid-State NMR
2006     Royal Society North America Incoming Short Visit Award
2003     Damon Runyon Cancer Research Foundation Postdoctoral Fellowship
2003     Jane Coffin Childs Postdoctoral Fellowship (declined)
1998      Graduate Teaching Award, Massachusetts Institute of Technology
1997       National Science Foundation Graduate Research Fellowship
1997       Phi Beta Kappa
1996       ACS Undergraduate Award in Analytical Chemistry
1994       Merck Award
1994       CRC Press Freshman Award