Dye-Sensitized Solar Cells/Solar Fuels

Finding ways to efficiently utilize solar energy is a major step in addressing today's energy challenge. The silicon solar cells currently on the market have an intensive manufacturing process that drives up their cost and energy payback times. Dye-sensitized solar cells (DSSCs) promise lower fabrication costs and have efficiencies comparable to amorphous silicon solar cells.
Tandem DSSCs (formed by combining n-type photoanodes and p-type photocathodes in a single cell) can achieve high efficiencies because the dual dye-sensitized photoelectrodes can provide absorption across the solar spectrum. However, current tandem-cell DSSC technologies are limited by the photocathode's substandard performance.
We seek to fabricate highly-efficient dye-sensitized solar cell photocathodes through…
Investigating the device physics of DSSCs
Introducing new nanostructured p-type semiconductors with proper valence band (VB) positions, high visible transparency, and high hole mobility
Developing new dye molecules with tunable charge transfer bands, appropriate oxidation and reduction potentials, and other properties useful for a wide range of photo-sensitized applications
Recently, our research into p-type semiconductors has found results which challenge conventional wisdom in the semiconductor field. Not only does n-type semiconductor tin-doped indium oxide (ITO) work as a p-type semiconductor, it also produces high photocurrents. This research shows an alternative path to industry-standard p-type semiconducting films like parasitically-absorbing nickel oxide (NiO).
We are interested in further developing dyes and transparent conducting oxide materials for solar cells and solar fuel cells.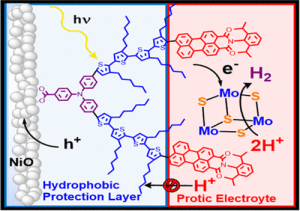 ---
Selected Publications
Yongze Yu, Kevin A. Click, Shane M. Polen, Mingfu He, Christopher M. Hadad, and Yiying Wu, "Electron Transfer Kinetics of a Series of Bilayer Triphenylamine-Oligothiophene-Perylenemonoimide Sensitizers for Dye-Sensitized NiO.", J. Phys. Chem. C 121.38 (2017): 20720-20728. (

DOI: 

10.1021/acs.jpcc.7b07859)
Kevin A. Click, Damian R. Beauchamp, Zhongjie Huang, Weilin Chen, and Yiying Wu, "Membrane Inspired Acidically Stable Dye-Sensitized Photocathode for Solar Fuel Production", Journal of the American Chemical Society, 2016, 138(4), 1174-1179 (highlighted by C&EN).
Ji, M. He, Z. Huang, U. Ozkan, Y. Wu "Photostable p-Type Dye-Sensitized Photoelectrochemical Cells for Water Reduction", J. Am. Chem. Soc., 2013, 135 (32), pp 11696–11699.